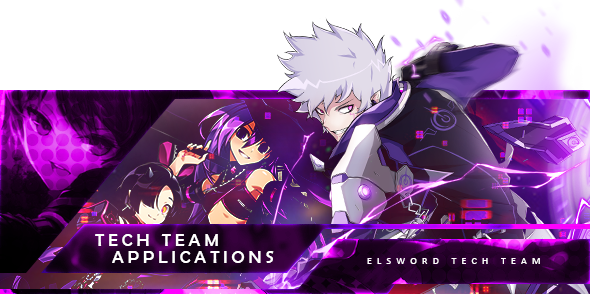 Join the Tech Team
We are currently looking for new members to join our tech-team. You are a passionate gamer and you would love to help testing the newest Updates? If you can meet our requirements we'll be happy to receive your application.
What are the tasks of the tech team?
Testing the functions and content of a new patch on a test server before releasing it
This includes: playing through dungeons, completing quests, checking whether a bug has been fixed, checking/testing new items,
Bugs that have been found during tests need to be reported to KOG (developers of the game) in English so they can fix them
Communication with tech team members of other language versions to check whether the bug can also be found in their version

Requirements:
You have to be at least 18 years old
You are a native English speaker or speak English fluently
You are interested in Elsword
Windows, hardware and software skills are an advantage
You love working in a Team
What should you include in your application?
Your nickname
Introduce yourself
Which games are you playing or have you played?
Do you have any previous experience regarding this position or similar one?
Why would you like to join the tech team?
How much time can you invest into this?
Please send your applications in English to tech-team@elsword.de
After sending an application you'll be informed by E-Mail about our decision/ receive further instructions. Please keep in mind that this may take a while. We're looking forward to receive your application!