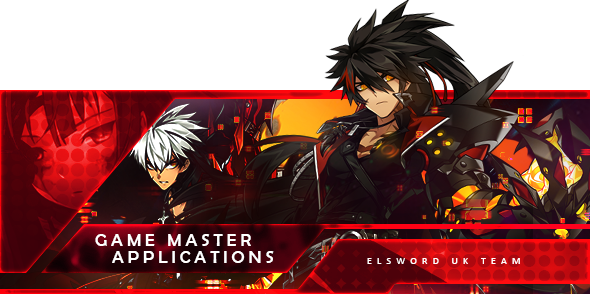 Become a part of the game team, join the Game Masters!
The Elsword UK support team is looking for new Game Masters to support the community by helping our players and enforcing the rules! Due to this, in order to be considered for this position you are required to have a good understanding of the game and how it works.
Playing the game whilst in the team
Your identity as a player is completely separated from your identity as a GameMaster and you can still play Elsword regularly with your personal account as a normal player.
Requirements to join the team:
Due to legal reasons, be at least 18 years old.
At least 3h per day for team duties.
Fluent English.
A good understanding of how Elsword works and the rules.
Accepting positive feedback and criticism from other members of the team, while being able to successfully being part of it.
Being able to use IRC and Discord.
Do you think you're fitting and meet the requirements to join the team? Then send us your application! Additional information as well as the template for your application can be found in our Application Tool.
Please use our application tool (available here) to send your application.
BEWARE: Everything application-wise will be handled via emails and this very same application, therefore, you should use a real email to which you can access to since a verification email (as well as our replies) will be done via that method.
After sending an application you'll be informed by e-mail about our decision/receive further instructions. Please keep in mind that this may take a while.
Applications that don't include ALL the information asked above will be ignored. All GM applications will receive a reply even if it's a negative.
We're looking forward to receive your application!
Regards,
The Elsword UK Team.